---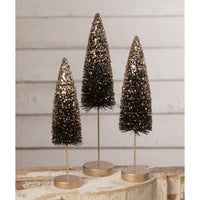 LC9599
This striking bottle brush tree set is sprinkled with gold glitter. They vary in size and are perfect for any Halloween or New Year's Eve table-scape or display. Metallic gold base. Glitter and wood base. Set of 3.
Materials: Bottle brush, glitter, and wood base.
Dimensions: 12" x 2.5" x 2.5" & 10.75" x 2.5" x 2.5" & 9.5" x 2" x 2"