---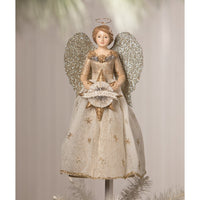 TD0024
An elegant angel with fabric accents and intricate detailing, this gold and silver tree topper holds a metallic gold star in her hands with a banner that reads "Peace on Earth", has glittered wings and delicate halo. Add a graceful, finishing touch to your tree or set this angel on your mantel to shine all season!
Materials: Hand-painted resin, fabric, paper, glitter, wire, tinsel, crepe paper and seam binding.
Dimensions: 10.25" X 5.5" X 5.5"